Cutting Edge Laser recently completed a production job for a company requesting silicone rubber cutting.
This material cuts very cleanly and accurately using our specific laser beam wavelength. Silicone rubber products and parts withstand heat, moisture, elongation, tearing, is extremely stable, is unaffected in contact with many chemicals, and is even fire resistant. Silicone rubber after laser cutting can then be subjected to -100 F to +400 F. This enables silicone rubber business to business production parts to be laser cut accurately and quickly. Silicone parts cut with our laser are exceptionally well suited for:
| | |
| --- | --- |
| O-rings | Gaskets and Washers |
| Automotive Parts/Applications | Lasered Wiring Applications |
| Cooking/Food Prep Tools | Food Storage Items |
| Laser Cut Silicone Apparel Applications | Sports Products |
| Sports Wear | Foot Wear |
| Electronics | Home Hardware |
| Machine Parts | High Temperature Machine Insulators |
| Freezer Products | Medical Applications and Devices |
| Adhesive backed parts and products | Aviation and Aerospace Products |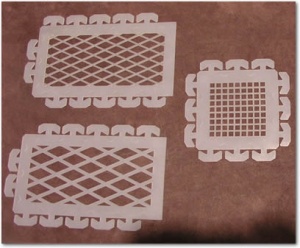 Silicone is available in solid sheets, tubes and strips. Parts can be molded, then identification can be laser engraved. Silicone rubber maintains it's shape even after much pressure applied for long periods of time (ie: gaskets and washers). Some products using silicone rubber are: cell phones, communication electronics, computer products, TV's, plumbing products. Silicone material appropriate for laser cutting and engraving has gone through a platinum curing process. Much research and usage of silicone rubber is evident in high-tech products since the early 1980's.
Contract Cutting Edge Laser to cut your business's parts and products. We strive for precision cutting, and maintain very accurate repeatable volume production.