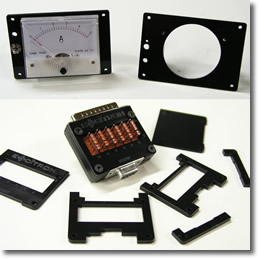 Let CuttingEdge Laser Your Medical Industry Products with Precision and Elegance
Laser Cutting & Engraving processes often produce much more precision and elegance, thus high quality Medical Industry Product ID's, Promotions, Awards, and Retail Displays. With cleaner lines and joints, much less cleanup is required.
Laser cutting and engraving is your professional solution. Production is fast and efficient, but increased laser machine speed helps keep cost/part reasonably priced.
Where tolerance and error needs to be greatly minimized, rely on computer aided machinery such as laser cutting.
Maximize repeatable parts cutting by contracting CuttingEdgeLaser.net to produce your company's high volume output needs. With over 85% returning customers, repeat and new design ordering relies on low to high volume production.
Rely on our 17 year Laser Cutting and Engraving expertise. We specialize in graphics design as well as 2D &3D product design. Our creative fabrication methods aim and succeed at perfection.
Inquire about our co-designing and co-developing parts and products with you. We work hard to find innovative solutions to your most challenging project concepts.
To get started, send us your designed layout files by email. Test cutting and engraving is recommended on scrap when possible. We photograph prototype work for you & begin production only when you approve. Setup is only charged once. Per piece cost is minimized because CNC Laser Work is predictable and efficient. Material usage is lessened when we tighten your file layouts for you.
Rely on us for fast order processing and excellent customer service. We guarantee our laser work 100% and your complete satisfaction at all times.
For the Medical Industry – we highly recommend below:
Laser Engraved Product Identification
Product Labels
Product ID
IR Codes
BarCodes
Serial, Model, Product Numbers
Product & Company
Product Promotion
Laser Product Samples
Advertising Specialties
Corporate Give-Aways
Awards & Recognitions
Laser Company Award Plaques
Laser Sales Recognition Plaques
Laser Engraved Employee Awards
Laser Corporate Holiday Gifts
Retail Store Displays
Point-of-Purchase (POP)
Displays using Laser
Cutting & Engraving
Laser Store Signage