Incense Burners, Computer Designed, Laser Cut & Engraved
Cutting Edge Laser continues a many year history of volume production Cherry Wood Incense Burners for a prestigious incense manufacturer in Boulder Colorado. These elegant, precision laser cut and engraved burners are made in production and sell on this company's website or in retail stores all across USA. The material used is strong Cherry Wood. They are 8.7" x 1" x 1/4". Contact us if you are a reseller, or manufacturer needing your designs volume produced.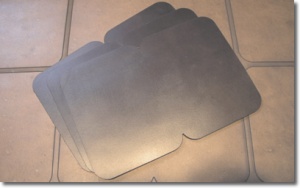 Laser Precision Cut Leather Wallet Parts
Laser cutting leather serves leather craftspeople in 2 ways. Volume Production & Precision cutting. When leather artists cut by hand, often lines are imperfect and fraying occurs. Laser Cutting creates perfect cut lines, .001" accuracy & repeatable cuts. During construction of parts, for example, in wallets photographed here, leather craftspeople appreciate accurately cut parts for easier assembling and sewing parts. CNC Lasers are also able to cut diamond shaped sewing holes leather artists require.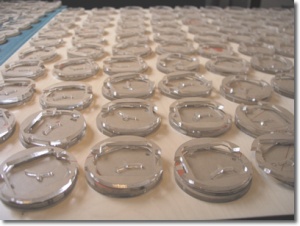 Laser Cut Acrylic "Big Watch" Production Parts for Electronics Firm.
Volume Laser Cut Parts, for products involving electronic circuitry and internal moving, mechanical parts, require precision, repeatable parts cutting. Accurate assembly of parts is critical for products such as this. Stacking of parts also need accurately located metal fasteners. The company who, for many years, contracts Cutting Edge Laser to laser cut parts, sells their units to customers who will assembly the units themselves.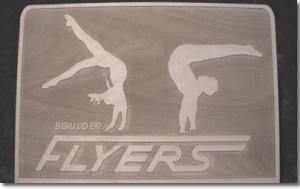 Laser Engraved & Cut Wood Team Member Plaques.
Whether engraved from photos, drawings, or computer graphics, laser production provides opportunities to market team or company brands. Images and graphics produced in volume, most accurately display intentions, messages, & signage when elegantly and accurately engraved & cut with the Co2 Laser.